Andover Water Line Repair & Replacement
Quality Services for Your Water Main
The water line is the main pipe responsible for channeling water from the public supply to the pipes in your home. When something happens with your water main, your water supply will be affected. Don't wait until there's no more water coming out of your taps before you call Simmons Plumbing for reliable water line services.
Our plumbing team has been serving Andover, Wichita, and beyond since 1978. We have repaired various issues with the water main and replaced aging and severely damaged lines. No job is too big or too small for our plumbers. We don't stop working until you have an adequate water supply in your home. If you are looking for water line repair services, contact our team of plumbers today. Take a look at our client testimonials and see why we are the most trusted team of water line repair experts in Andover and the surrounding areas.
Get started with a water line inspection. Call (316) 444-3900 to schedule an appointment!
Signs You Have a Problem with Your Water Line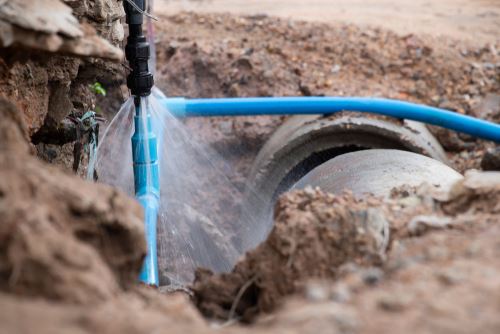 Your water line is only accessible through digging, so it can be hard to know immediately when there's a problem with it. The good news is water line leaks and other problems always have a tell.
Signs You Need Water Line Repair:
An unexplained surge in your water bills -
If you notice that your water bill has increased suddenly, it could be that your main water line has a leak. It may be time to contact our expert Andover water line repair team to come and help you.
A sudden drop in water pressure -
No one wants to take a shower with bad water pressure, If your water pressure has dropped dramatically, it could be due to your water main having a clog or even a possible leak.
Foundation Cracks -
If you notice that your foundation has some cracks, it could be due to moisture that is not drying up around your foundation. Concreate will absorb water and if your main water line is in need of repair due to a leak, contact us as soon as you notice the cracks.
Another way of telling when you have a leak or water line problem is through your water meter. Shut off your water main and observe the meter. When the dial on the meter continues to run, this is a strong indication of a leak somewhere in the line. Simmons Plumbing can find the exact location of this leak or break using a camera inspection. We then offer recommendations for repair or replacement depending on the severity of the pipe damage. In addition to our water line repair and replacements, we also provide expert drain cleaning services.
Benefits of Repairing Your Water Line
Taking care of a problem regarding your water line is important for helping to prevent potential costly damages. Repair comes with a number of great benefits.
Benefits of professional water line repair services include the following:
Water line repair is quick and affordable
Repairing your water lines will add longevity to your water pipes
Water line repair can oftentimes be done within one day
Your plumbers will be able to locate other damages and prevent costly replacements
Water line repair will be able to prevent future damages
Repairing your water lines can boost your home's value
Repairing your water line may help to decrease utility costs
Contact our pros today to learn more about the benefits that come with repairing your water line.
Emergency Services Are Available 24/7
A broken water line can cause extensive water damage to your home and its foundation. That's why it's crucial that you call a professional plumber right away should you start suspecting a problem with your water line. Day or night, Simmons Plumbing is your trusted emergency plumber. We have the training, experience, and the latest tools to repair or replace your water line promptly, efficiently, and at a competitive rate. Check out our testimonials and see what other people are saying!
Contact us today for fast, reliable water line repair or replacement in Andover. Our number is (316) 444-3900!
Hear What Our Customers Are Saying
They were knowledgeable and respectful and did the job right. I am very pleased. - Brett B.

Honest, quick and they do great work! - Ben W.

Simmons plumbing was absolutely amazing! - Brittany G.

I would recommend Simmons to anybody I know!

I would recommend Simmons to anybody I know!

" - Rajesh K.

Excellent customer service! - Steph O.